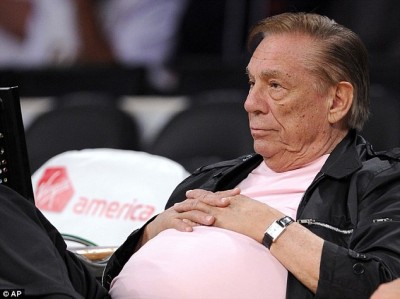 Article
By Telema Davies
In a shameful twist of circumstances, the weekend's NBA playoffs series were overshadowed by racist comments attributed to Donald Sterling. The basketball community, worst hit, and indeed the world, was bewildered by remarks Sterling made to his girlfriend on April 25. Donald Sterling, owner of the L.A Clippers, told his girlfriend he didn't want her to bring black people to his games. This he said, after she posted a photo of herself with Hall-of-Famer Magic Johnson on photo sharing site, Instagram.
According to a recording posted on TMZ website, Sterling said, "it bothers me a lot that you want to broadcast that you're associating with black people. Do you have to?" He's further quoted as saying on the recording that he didn't mind her friendships to black people, just that he didn't want it to be known. "But why publicize it on the Instagram and why bring it to my game?" he asked.
There have been swift reactions by personalities in the basketball community, from former and current players as well as administrators. Chief among such figures is a man unwittingly at the centre of the comment from Sterling – Earvin Magic Johnson. He took to micro blogging site, Twitter, to express his shock and disgust at the statement from the Clippers long-term owner. Johnson tweeted, "it is a black eye for the NBA and I wouldn't be going to Clippers games as long as Sterling owned the team."
Magic Johnson also said on television that Sterling should "give up the team," a call strongly supported by former L.A. Lakers player, Shaquille O'Neal. On TNT Halftime Report, Shaquille was visibly upset and taken aback by this racial slur, which he described as nasty. A fellow franchise owner and Chairman of the Charlotte Bobcats. Michael Jordan, said that as an owner he was "obviously disgusted that a fellow team owner could hold such sickening and offensive views."
The Hall-of-Famer said, "As a former player, I'm completely outraged. There is no room in the NBA – or anywhere else – for the kind of racism and hatred that Mr. Sterling allegedly expressed." Vivek Ranadive, the Sacramento Kings owner, said two days ago on Twitter that if the allegations were true, "We must have zero tolerance." There are already strong calls for an investigation into the comments by Donald Sterling, given the high profile nature of the incident.
Sterling, according to Forbes magazine, is one of Los Angeles' wealthiest people at a worth estimated at $1.9 billion. He was born Donald Tokowitz in Chicago but grew up poor in Boyle Heights, a Los Angeles neighbourhood near downtown. Donald trained as a lawyer and went into acquisition and trade of properties, eventually amassing an estate portfolio with thousands of rental units in Los Angeles and elsewhere.
Sterling, who turned 80 two days ago, bought the Clippers in 1981 and is the longest-tenured owner in the NBA history. Clippers President Andy Roeser said the comment does not reflect Sterling's personal beliefs. Clippers lost to Golden State Warriors last night.
What Do You Think?
comments