The press screening for the highly anticipated Half of a Yellow Sun was held in the city of Lagos recently at the Silverbird Galleria. This was followed by cocktails and a Q&A session at the Wheatbaker Hotel in Ikoyi. Every media house worth it's salt was present to get a sound bite from the cast and crew of the movie which starrs Chiwetel Ejiofor, Thandie Newton, Anika Rose, Genevieve Nnaji, Onyeka Onwenu, OC Ukeje and a host of others. The screenplay is an adaption of Chimamanda Adichie's book and was directed by Biyi Bandele.
Of course getting a word in proved to be a real Herculean task as time was limited so imagine my joy when I spotted the director, hours after the event strolling through the lobby! Without a care, I firmly marched up to him and introduced myself as the Editor of Pride Magazine Nigeria and wondered out loud if he would mind giving me a few minutes of his time. He was quite pleasant and obliged me (though I'm certain my megawatt smile didn't hurt the equation).
Here's the gist straight from the horses' mouth on the who, what and why of HOAYS as told to Latasha Ngwube…
What kind of responses have you gotten from people on the movie?
I've gotten every single kind of reaction to it. I've got people who love it, I've got people who if they had their way, they'd have me beheaded. You know, I've got people who think the acting is great, I've got people who think "how dare you cast Thandie Newton". Mostly, the reactions have been incredible, you know. From all these, there's been nothing but love. You know, we've done Q&As, and normally when you do a Q&A, like 60 to 70% of the audience leaves. We've had Q&As where maybe 5% leave . Obviously, if they didn't like the movie they wouldn't have stayed. You know, if it hadn't made an impression on them. When it was screened in Sweden recently, they did about 5 screens and after each, I had to do a Q&A…of course I've watched the movie so many times that I said to myself  I'd only go in 5mins to the end of the screening and then go on stage. To my surprise, from where I stood backstage, I saw people sobbing and by the time the light came on it was quite emotional really…
From the reaction between you and Chiwetel, especially at the press conference, it seems your relationship with him extends quite a few…at least two decades. So was he a natural choice for you? Was he cast because he's your go-to guy or you knew that this would be perfect?
No no no. Chiwetel and I have got one thing in common; we are quite ruthless when it comes to work, you know. If I give Chiwetel a script he doesn't like, he's not going to say because we've been friends for 20yrs he'd do it. If he doesn't like it, he'd tell me to f**k off. I mean seriously, you know. And if I didn't think he was right, I won't have cast him. You know, I didn't audition him, I just knew he'd be good.
Is this your first project together?
No. we've worked together but this is the first time I directed a film he is in. I've worked directly with him.
What movies, I'm sorry?
Some of them were short films, some were radio plays.
Also, I find it interesting that almost, if not all, of the cast, apart from your foreign leads, were Igbo. Was that intentional?
No…I swear to God, I just had the best people. I didn't actually think about it like that. My brain is very slow with that kind of thing (Laughs). I'm not as deliberate as that.
On a lighter note, working with these actors; Thandie Newton…, even Genevieve, OC Ukeji… who was the most difficult working with? I know everybody was cool on this movie but you know working with actors who are a bit famous tend to be set on things they want do and how they want come about… So who was difficult?
I didn't get much problems of that sort on this project. I cast very well, I don't cast just to do someone a favour or because  he looks nice, you know. I don't like actors acting, I like actors who will perform! If I think there's a role and I think I can get…like Onyeka, you know. She's amazing! And that character is nothing like Onyeka in real life. Onyeka is very posh, you know. She was educated in the US, and you know. I saw her and knew she could give me what I needed. She later told me that she was channeling one of her late grandmothers!…laughs. So I didn't have problems with actors acting like someone like Genevieve, you understand. There's a scene…my favorite scene of Genevieve was when Odenigbo goes complete crazy and Genevieve wanted to react, because Odenigbo (Chiwetel) had been drinking and was really pissed off. I told her to stand still and not move and it made that scene so much more powerful. When she understood what I was going for she immediately went in the motions and it was great.
But here's another thing. In the book, it highlights very strongly the rivalry between the sisters. But that wasn't really channeled in the movie, it just made it seem like there wasn't really a reason because in the book, one was supposed to be more attractive than the other…
Yes…the one thing I don't know how to do as a person is to say "this woman is ugly", you know. I think ideas of beauty are just different. And you know I just said to my mind that I'm not going to say that one of them is pretty and the other isn't, I'm just going to cast the best actors. Like in the book, the sisters start out being hostile to each other and then they got more hostile to each other and then they finally fall apart. I felt to kind of build a story for the audience to fall in love with, we needed to have them very close at the beginning, and then closer and then when one betrays the other, it's even more painful. Because if they were not getting on in the first place, you know, there's nothing (chuckles). You know, when someone who you don't like does something that pisses you off, it's not as painful as someone you deeply love…
How many times have you taken your own books and making them into movies?
Well, you know my most recent…I want to turn that into a movie.
Is that the Burma Boy?
Yea…The Burma Boy.
What were your fears from the onset of the project? What did you think would be the things that could go wrong?
There were two things people were worried about. A lot of my crew were worried about security, because they heard Calabar, looked at the map and they saw Niger-Delta. But I said "No, it's in Niger-Delta but it's actually a hell of a long way from where it's all going down". So I wasn't worried about security. I've visited Calabar many times during the years I've spent to make the film and Calabar is basically the only city in Nigeria where I can say that I've left my hotel at 2am and walk on the street and I didn't feel threatened in any way, you know. (Laughs)
And what was your second fear?
The second fear was electricity, because I knew it was a big film and I kept asking and suggesting to the producer…generator,generator! Eventually, at  the studio in Tinapa where we shot, we didn't have even five seconds of power failure, not once!
Did the Government help you in anyway?
A lot. The state Government gave us that facility for free, they encouraged people to be really helpful and welcoming to us…the Governor came to the shoot about 4 or 5 times and his wife must have come like 15 times. She's a bit more of a Genevieve fan so when Genevieve was on set, she was there every day (laughs).
Prior to production or preproduction, in years before the movie started, had you been to Tinapa?
No.
So your first view of Tinapa, was essentially on account of HOAYS; What did you think?
I was really excited because it was a world class sound stage. That was actually one of the things that persuaded the producers in the UK to say "OK we'll shoot in Nigeria" because up till that point, I came and I took photos, you know but they kept insisting it was South Africa.  Their reasons were if we'd shot this movie in SA, we would have gotten 10% in tax rebates, which is a lot of money that would have been saved and also  South Africa has world class infrastructure for films. We had to spent hundreds of thousands of pounds bringing in our equipment to Nigeria which we wouldn't have spent if we'd shot in SA. There were several compelling reasons why we were supposed to shoot in South Africa, but I thought we needed to shoot here in Nigeria. The landscape is different, the body language of Nigerians is completely different from the body language of the South Africans. I just didn't know how to make a good movie if it was shot in SA, so I kept making that case. It cost us a lot but I'm glad we shot it here, because you can see the authenticity.
 I heard that, you know, authors when their films are being converted to films they usually have a lot of demands. I heard she didn't have any of those except for the fact that it had to be shot in Nigeria. Is that true?
I mean she didn't make that demand, I did! She wanted it, but she never said to me because she knew I was the one saying "yes, we'll shoot in Nigeria!" (Laughs). So she didn't need to tell me that.
So was she on set every day?
No. No. No. She wasn't. I travelled with her once, that'd be like 2008, from Lagos to Nsukka. Her younger brother, Okey, drove us. We left Lagos around 7am and got to Nsukka around 7 or 8pm and the purpose of the trip was for me to go to Nsukka, which I'd never been to before, to see…you know she was born there, but the truth was for me to sell myself to Chimamanda, to sell my idea about what I wanted to do. She told me later, after that long drive, that I was as crazy as she was so she was going to let me do my thing.
Do you think that you're going to do more projects with her, you know any of her other books; Purple Hibiscus, Americanah..?
You know, I hope so but I can't say anything right now. I mean she's just an incredible writer. She's just an amazing story teller.
Looking back at your experience shooting this film in Nigeria, do you have any advice to give movie makers in Nollywood concerning changes in production for the better?
I don't think I have anything to say because Nollywood has been working really well without me. I honestly cannot make any prescriptions but what I do know has happened in Hollywood and Bollywood is that these industries were started by trader, salesmen and businessmen who saw an opportunity and went for it. I think that's what's happening in Nollywood right now so in the next ten years there will be adolescents and young adults who grew up watching and knowing Nollywood who will attend film schools around the world, come back home to create amazing things and grow the industry. Nollywood itself will continue in its form as I believe there will always be a big market for it.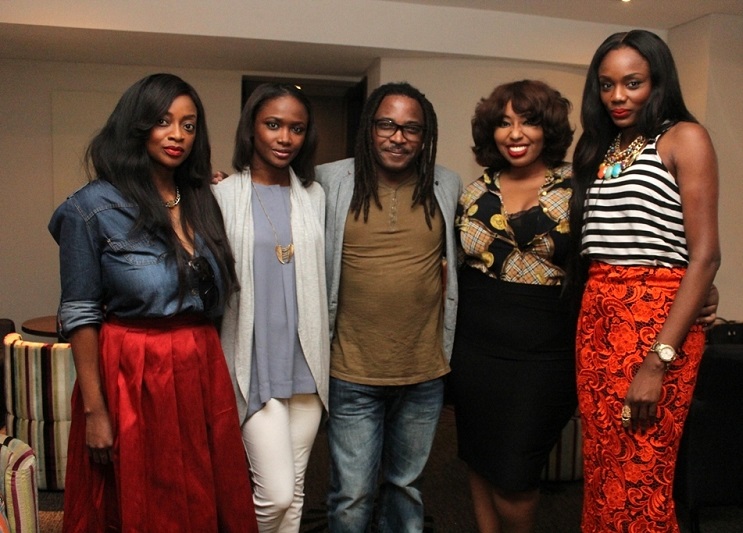 How often before this project did you come to Nigeria?
I've lived in London for 25yrs now and in those years, the only time I didn't come to Nigeria like 2 or 3 times a year was my first 2yrs in London and that was because I didn't have my passport; I went to London on a 6months visit and then I applied and the moment I had my passport back, I was in Nigeria frequently. You know, I come home all the time. This year already, this is my second trip home – I was here in January. I just don't go around giving interviews, you know, because people seem to think the only time I'm around is when they see me in the papers or something.
What Do You Think?
comments