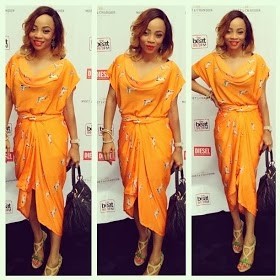 Article
By Ngozi Ufere
Trends are interesting. It is one thing that is likely to spread like wild fire other than bad news. The streets of Lagos help me discover what's in vogue and leaves a constant visual reminder every time I walk out of my house. I reached the conclusion that we as humans are not entirely different from each other. Our fashion wants are somewhat identical; our end in sight is to look good.
I must confess trends could be nauseating, especially when you're slapped with the same fashion item at every turn, making it a bit boring and predictive. I often tell people that care to listen; I can never buy what's in vogue, my excuse? It's too common! I crave uniqueness, as do some (or do I say many?) of us and that is why the place of personal style cannot be laid to rest. I vote PS over trend – its way cooler!
Clothes are special. It's not enough to see clothes as merely the end result of sewing fabrics, every outfit has a story. They are extensions of our personality; ergo having a personal style transcends wearing what's in vogue or the latest trend. It's all about translating your personality into clothes and making it relatable to the rest of the world. People hear your clothes before they hear you speak, so staying true to your style gives you a unique voice.
I'm easily drawn to people who aren't affected by the outside world, and who are unflinchingly sure of who they are. I guess that's why I'm a huge fan of Denrele Edun style. In my opinion, he is a style icon; his style is meta-normal, loud, weird and crazy! I haven't seen anyone who possesses the will power not to stare when he walks by or enters into a room, it's daringly amazing. I've often wondered what inspires his style – there has to be some form of inspiration. No one wakes up and decides to look like they've just been electrocuted; it takes guts and 'liver' to walk out of the house looking like he does and it takes larger diva guts not trip over the shoes he wears. How this guy does this so impeccably beats me.
The beauty of personal style is you getting to see the difference in everyone's taste. If I've taken any knowledge away from trends, it is the fact that not all trends are for everyone. An example is the new tulip (twist tie) Iro and Buba style. It is an amazing trend; one that I'm glad saved those like me who still find it daunting trying to tie the regular wrapper (Iro). Inasmuch as most, if not all, have jumped on this Iro band wagon – no one wants to carry last – I should state that not all body types accommodate this new development. Know your body. Know your curves.
Trends keep the fashion world abuzz and relevant, so by all means roll out the trends, but keep in mind that trends are in constant transition and constantly evolving so never get lost in its momentary craze. There is beauty in loyalty to you and to your personal style.
What Do You Think?
comments