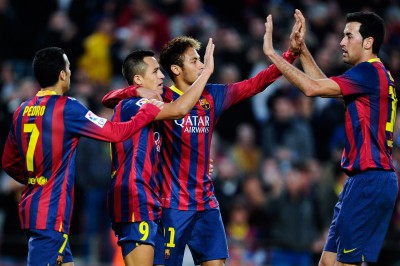 Article
Barcelona have been hit with a a year-long transfer ban after FIFA ruled they had broken rules concerning the transfer on players under the age of 18.
In a statement Fifa said: "The FIFA Disciplinary Committee has sanctioned the Real Federación Española de Fútbol (RFEF) and Spanish club FC Barcelona for breaches relating to the international transfer and registration of players under the age of 18.
FC Barcelona were found to have violated several provisions concerning the international transfer and first registration of non-Spanish minors with the club, as well as other relevant regulations with regard to the registration and participation of certain players in national competitions. The investigations concerned several minor players who were registered and participated in competitions with the club over various periods between 2009 and 2013.
FC Barcelona has been found to be in breach of art. 19 of the Regulations in the case of ten minor players and to have committed several other concurrent infringements in the context of other players, including under Annexe 2 of the Regulations.
The Disciplinary Committee regarded the infringements as serious and decided to sanction the club with a transfer ban at both national and international level for two complete and consecutive transfer periods, together with a fine of CHF 450,000. Additionally, the club was granted a period of 90 days in which to regularise the situation of all minor players concerned."
The Spanish FA were also hit wilth have to pay a CHF 500,000 (N92 million) fine and were given a year to "regularise their regulatory framework and existing system concerning the international transfer of minors in football."
Image: images.performgroup.com
What Do You Think?
comments